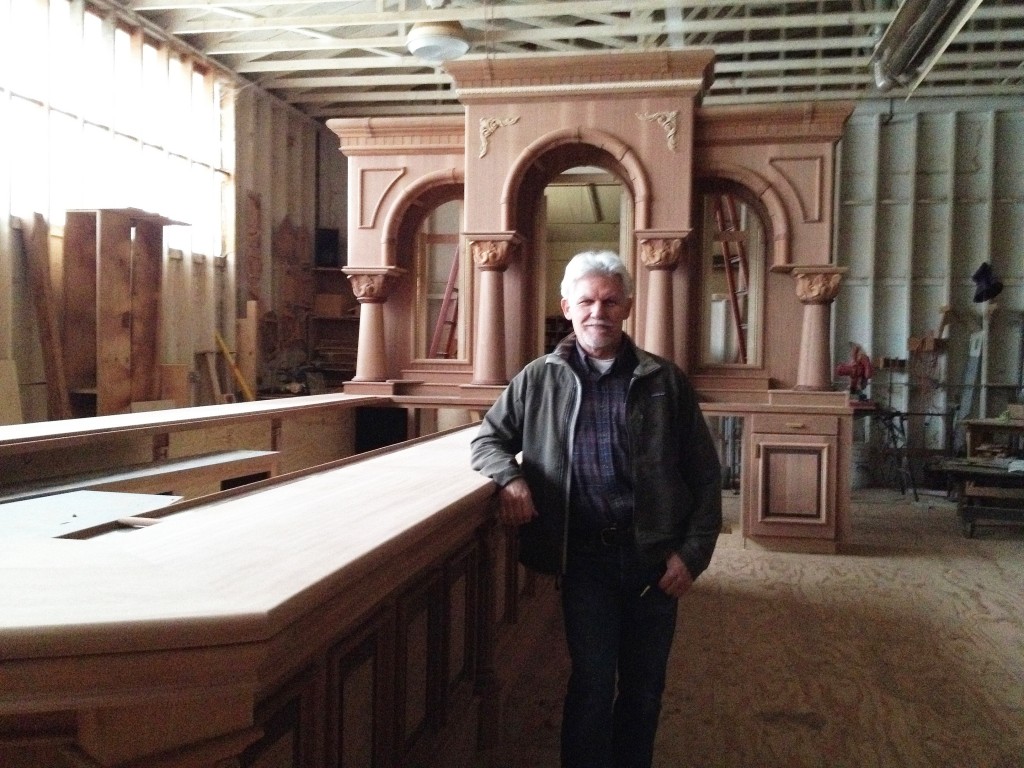 The Blue Lake Chamber's featured business this quarter is Wallace & Hinz – makers of fine custom bars. This quarter we speak with owner Tom Tellez. 
The next time you belly up to a particularly beautiful bar with amazingly detailed woodwork, a perfect finish and great overall design – you may well be standing next to a Wallace & Hinz creation.
Here's how W&H describes what they do:
"What makes a great bar? It's the feel. It's the presence a bar has inside the space it inhabits. The impact it has from across the room and the touch of it, up close.  From the most select materials, we custom design and hand-craft every single one of our bars. Our bars are made by real craftsmen who fuss over every curve, every detail, every joint — by seasoned artisans who understand that a bar is more than a piece of furniture to set your drink on. It's a monument to a long tradition of friendship and a culture forged in camaraderie.
We wanted to know more about this Blue Lake company, so we asked owner, Tom Tellez, a few questions:
Tom, tell us about W&H:
We have about twelve employees and we like to ship about two bars a month – some are small portable bars and sometimes they are quite elaborate. The small bars run about $5000 and we have built large bars that can be as much as $100,000. Sometimes they can be quite complex.
For example, would you be talking about something like historical finishes in restorations?
Yes, that's a good one, for example the work we're doing now for Benbow Inn. Instead of us trying to be the one company that does everything, we've learned that there are a few individuals who we can go to for historical techniques and special finishes. The Benbow Inn has a very unique finish on its existing interior wood paneling, so we're going to bring in people who understand the history of woodworking design and the special treatments needed for the wood finish. On this project we'll bring in Bill Hole who is a local architectural historian. He teaches at CR and he's been an advisor at the Carson Block Building.  He'll be a great asset on how to build certain things. For the finishes themselves, we would like to bring in Peter Santino. He's amazing. He did the work on the Eureka Theater and that's how I met him.
Have you ever worked with boat-wrights?
Yes, we have at times, especially when we are bending and curving wood and need to get that kind of twist you see in wooden boats. We've actually been asked to build bars that replicate boats.
And do you use CAD?
We have CAD designers here at W&H.  CAD's great because there's a lot of math involved in making these bars. We get some unusual designs going, like the wine library we were commissioned to build for a winery cave in Napa. That was extremely unusual – you have to measure everything from the ceiling down to get it to fit correctly.
Where's the farthest away bar you've built?
We have one in Mongolia. I don't know much about it there since we have a representative and he's the one that took it out there. We have a bar in Moscow that he placed, plus some in France and at least three in Australia, one in Korea and a couple of others in Japan. In the Americas, we've gone as far south as Panama.
How long have you been doing this?
The Company started in 1976. I joined them in 1990 as a sander, starting at the bottom making four dollars an hour. I was in college and needed to support my family. I left in 2000 and started my own woodworking company and then into 2004, the opportunity came up to buy Wallace and Hinz, and I've owned it ever since.
Let's talk a little about Blue Lake…
I love Blue Lake! When we had to move out of our old building in Arcata, we looked for two years until finally Eric Almquist said he was building a new retail facility in the Giuntolli area and would be moving out of what is now our current location. The opportunity to buy the property came up shortly after that and we've been here at the gateway of the Industrial Park ever since.
We were here when the brewery didn't have the tasting room that it does now. Blue Lake has really changed since then – things are quite different today. The town was transitioning then. The older community was transitioning out and the younger community was moving in, but they were still very separate back then. Nowadays, the brewery has expanded, which includes a Wallace and Hinz bar and now includes a nice little food venue. They've really become the hub of the industrial park and Blue Lake.  I really love that I have been part of that.
Dell' Arte and the Blue Lake Casino are here and the Logger bar has been bought and remodeled – the town has really emerged as a Humboldt County destination place. Now we have the Chamber of Commerce working, there's the Old Crows plus all the other volunteer groups, so things are really happening.
What do you think most of us want for Blue Lake's future?
I think things have changed already. When I first came here the City Council said the city did not want drive through coffee shops and they did not want a restaurant. Now my guys here at Wallace and Hinz have places to get a meals and or a decent cup of coffee within walking distance. The casino didn't even have the gas station back when it was a much sleepier little town.
Many of these volunteer groups have emerged because things needed to get done. The Chamber is much more proactive now and says let's get things going. The Old Crows says let's fix things up, and so on. The people of the town pull things together and know each other now at the Brewery, at The Logger and at Stardough's – and people really enjoy that. I feel like I've been part of that change.
As I understand it, BL once had stores, restaurants and was a real town, and then logging left and it shut down during the transition.
I agree, and I'd like to say that more can happen down here in the Industrial Park – or you could call it Artisans Way – and we could have everything from chocolate makers to artisanal cheese.
It takes a lot of people working together to change things, to make things happen.
And that's what I love about this town! I was, for example, concerned about the dog waste problem all around me and I was really wanting that to change, so the chamber stepped up and told the city we would put in the stations. The city asked who was going to empty them and the Old Crows stepped up and said they would take care of it.
People here get together and then get a lot of things done all the time. And that's a good thing!
All Business Spotlights
Summer 2015: Margaret Kellerman
Spring 2015: Mad River Alliance
Winter 2014:  Rick Willits Wood Floors